MIKE PEAK
Peak Experience Jazz Founder, Bass & Leader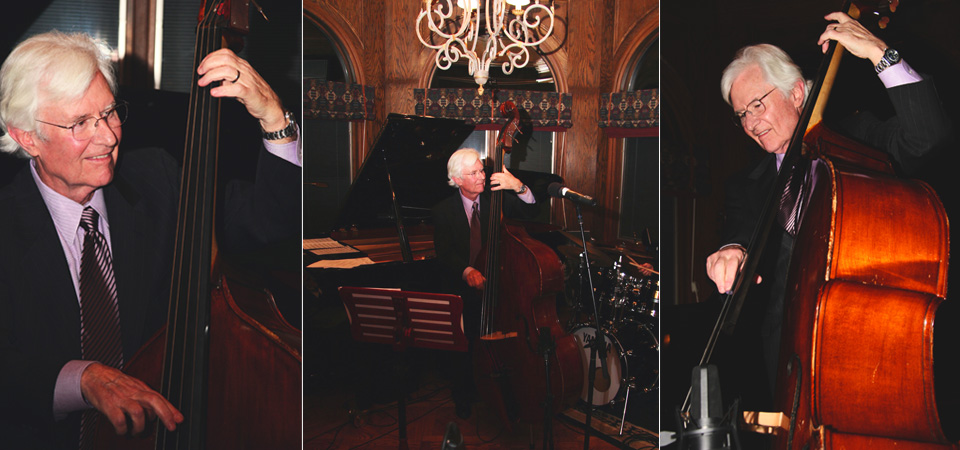 What Mike Peak has to say about Peak Experience Jazz:
The band was organized in 1995 so that I could return full time to the music business in 1997 after having spent over twenty years away from it. I was getting numerous requests from colleagues and friends from the construction and real estate industries to play for various events. Also, several of the charitable organizations that my wife Lucy and I have been involved with over the years wanted us to play for their many fund raising events. It had been my belief for many years that "straight ahead jazz" could be successful in the so called "casual" market if the art form was presented properly. My strategy always includes taking the time to develop a music program of straight ahead jazz that is very carefully integrated into the client's event timeline and includes music from their favorite composers and artists. The result is that we are always very well received witnessed by the fact that almost all of our gigs are from repeat customers. More importantly, we never have to compromise the music and always remain true to the art form. Occasionally, I even go so far as to compose a tune for the client which is always a big hit and encourages repeat business from them. Over the years, we have developed a very large clientele and fan base who insist on having straight ahead jazz at all of their functions. Indeed, I get accused of having "brainwashed" all of these fans into liking good music! The downside is that we rarely have the opportunity to play in the jazz clubs or other public venues.
More about Mike Peak:
I was born in Santa Monica and was raised in Venice in the same neighborhood as the Clayton Brothers. I started playing music at the age of eleven years. My first instrument was the steel guitar. At the ages of twelve and thirteen, I won numerous first place awards in the adult division of the International Guitar League annual competitions. I studied theory, harmony, composition and orchestration and taught at the now defunct Cunningham Conservatory of Music in Santa Monica. I was playing as a professional and teaching by the age of thirteen.
At first, to make money for school and to support my family, I played and toured on country western swing bands where I met many excellent jazz musicians. In the mid fifties, I was bitten by the "b-bop bug" and formed my own jazz band. I worked my way through college (UCLA) doing casuals and playing for sororities and fraternities. I used a quartet consisting of steel guitar, bass, drums and sax. We played mostly straight ahead jazz. I used the steel guitar to play four to five horn parts and unison lines with a tenor or alto sax as the lead. There was no need for a piano as the chordal accompaniment and comping was done by the steel guitar. I was always fascinated by the early b-bop bassists such as Oscar Pettiford and Ray Brown so I took up the instrument in the late fifties. In 1958 I went into the engineering and construction business but still stayed active in music. During the sixties and up to the early seventies, my jazz trio performed several nights per week including an eight year/four nights per week engagement at an exclusive tennis club in the Hollywood hills called the Mulholland Club. Every week we would feature a different guest artist such as Joe Pass and others. In 1975, I merged my heavy construction company into another firm that became one of the largest contractors in the nation. Due to the time requirements of managing the firms fast growth and increasing work load, I was unable to play very much music until I retired from the Engineering Construction business in 1997 at which time I went back into music full time.
My wife Lucy and I enjoy producing six to eight functions per year in our Laguna Hills home that are usually attended by as many as 300 fans of straight ahead jazz and The Peak Experience. We limit attendance to 300 and some of these events sell out months in advance. Most of these events raise funds for school music education programs and for such worthwhile organizations as WISEPlace, a community of housing and hope for women in crisis in Orange County and others.
I went to Venice High School and UCLA. I was Student Body President at Venice High School in 1953. In 2004, John Clayton and I were selected as Alumnus of the Year. In making these awards, the Alumni Association was unaware that they had selected two bass players who were also very close friends!