PRESS RELEASES // Peak Experience Jazz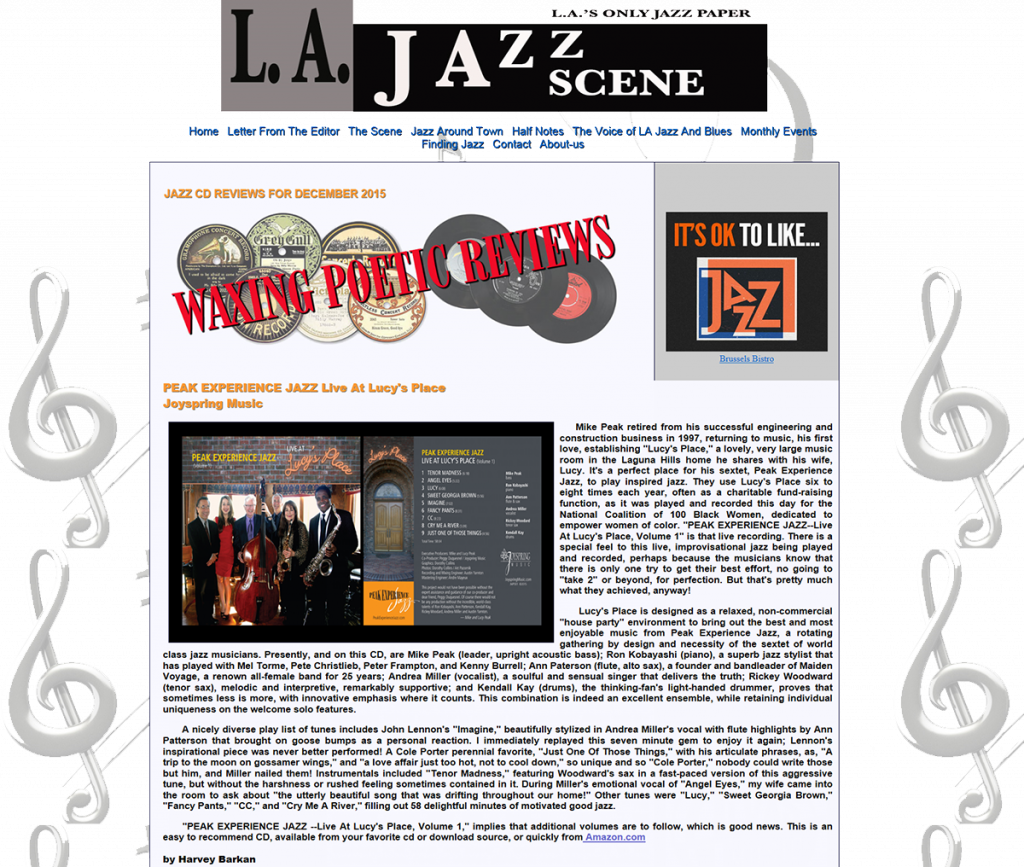 ====================================================================================

====================================================================================
Peak Experience Jazz kicks off live series at Lucy's Place
By: Carol Banks Weber AXS Contributor Jul 20, 2015
Jazz has always been a home-grown affair, fostered from parlors and living rooms. Over at Mike and Lucy Peak's Laguna Hills, CA home, live jazz became a popular, fundraising affair as local musicians found a place to hang, jam, and collaborate in true straight-ahead fashion.
Since 1997, various musicians have made joyous live jazz together at "Lucy's Place," the music room of the bassist and his wife, often for charitable organizations, including the National Coalition of 100 Black Women. On one particular December day in 2014, the ensemble's founder Mike Peak and five other musicians — pianist Ron Kobayashi, flutist/saxophonist Ann Patterson, tenor Rickey Woodard, drummer Kendall Kay, vocalist Andrea Miller — gathered for the Orange County Chapter's 14th annual Jazz Affair. The result in this lively, fun recording, Peak Experience Jazz – Live at Lucy's Place (Volume 1), released on JoySpring Music, June 16, 2015.
For the first-ever record of the ensemble's live jazz, it's quite captivating. The enthusiasm of the musicians for the material — nine jazz and pop covers, and originals done tongue-in-cheek, and differentially at the height of drama — and of the appreciative fans in the audience clearly whooping it up at all the right licks make this live album something special. The music and musicianship are top-notch, the arrangements are twisty-turny ("Cry Me A River" turns out both bluesy and spicy), and the jazz focus is given the same amount of enthusiastic response as a Justin Bieber concert.
Everybody's heard the old standard, "Cry Me A River," every long, drawn-out sob story milked within an inch of its life. Miller as the vocalist gives each line just the right amount of pathos, verve, and snap. She isn't the kind of singer to wallow in the pitiful aspects, but to turn up the rebound several notches for a refreshing take. She kind of gives off a Jennifer Paige ("Crush") vibe too, doesn't she?
http://m.axs.com/peak-experience-jazz-kicks-off-live-series-at-lucy-s-place-61594
====================================================================================
The Peak Experience Jazz Ensemble features top Los Angeles-based musicians
By: Paula Edelstein

AXS Contributor

May 29, 2015



After enthralling audiences throughout Southern California with their straight ahead jazz music, the Peak Experience Jazz Ensemble has released their debut album titled Peak Experience Jazz Live at Lucy's Place (Volume 1) for your further listening pleasure. The 9 tracks are a collection of newly arranged versions of such jazz favorites as Sonny Rollins' "Tenor Madness," "Angel Eyes," and the Great American Songbook standard "Sweet Georgia Brown," among other jazz, pop and original compositions penned by Mike Peak.
The album was recorded during a benefit concert by the group in December 2014 and features Peggy Duquesnel, a veteran pianist, vocalist, composer and arranger who also serves as the co-producer of the CD. The core members of the Peak Experience Jazz Ensemble includes Rickey Woodard on tenor sax, Ann Patterson on alto sax, tenor sax and flute, Andrea Miller on vocals, Ron Kobayashi on piano and Kendall Kay on drums. Their dynamic stylistic diversity, emotional urgency, high energy and sweeping big band influence sets them apart from average jazz bands. One listen to Andrea Miller's 21st century update of "Angel Eyes," will endear you to this song all over again.
This music is capable of yielding highly effective aural pleasures! "Imagine," "Cry Me A River," and "Just One of Those Things" are all songs that this ensemble presents as great aural innovations without actually having to experience the story behind the songs' titles. John Lennon's "Imagine," as sung by Andrea Miller with Ron Kobayashi's great solo and Ann Patterson's flute fills, is now performed in a framework that makes sense of the many paradoxical ways that its lyrics are understood.
"Cry Me A River," features an exceptional solo by tenor saxophonist Rickey Woodard as he underlines Andrea Miller's emotional urgency in this fresh arrangement. "Just One of Those Things" also features Woodard along with Kobyashi's exceptional piano solo accompanying Andrea Miller's blues-drenched interpretation.
Overall Peak Experience Jazz Volume One – Live at Lucy's Place is a delightful musical experience and one that you are sure to enjoy. From jazz to blues to pop the selected music covers a broad assortment of themes and perspectives, ranging from the heartfelt reminiscences heard on "Just One of Those Things," and "Cry Me A River" to the thoughtful meditations heard on "Imagine." The recording is available on Joy Spring Music.
http://m.axs.com/the-peak-experience-jazz-ensemble-features-top-los-angeles-based-music-55749
======================================================================================

========================================================================================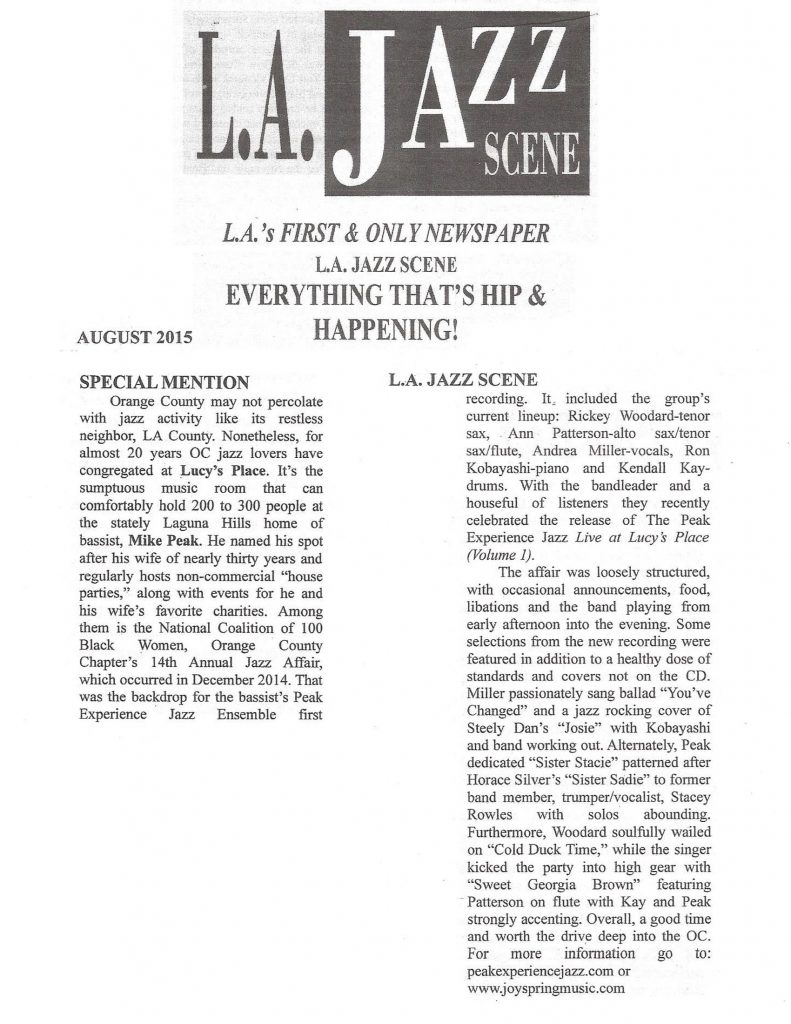 ============================================================================================================
=======================================================================================